The Chrome Web Store removed an extension that pretended to be a popular AdBlock Plus ad blocker. Fake not only did not block advertising, but opened new tabs in the browser, where it showed users … advertising. Before the removal, more than 37,000 people managed to establish the extension.
The fake information was discovered by an IS specialist known under the pseudonym SwiftOnSecurity. In his Twitter, the researcher writes that the main problem here is that Google automated the process of downloading extensions to the directory, which allows developers to download extensions in Chrome Web Store with exactly the same names as other products. In this case, AdBlock Plus. Such tactics helped the Web Store to quickly outrun Mozilla with its add-ons for Firefox, but, unfortunately, the coin also has a downside.
"Goolge allowed a scam developer who cloned the popular name and spammed the keyword, cheat 37,000 Chrome users with a fake extension. Legitimate developers can only sit and watch Google mix [их продукты] with fake extensions that steal their good name, "writes SwiftOnSecurity.
It is worth mentioning that it was possible to distinguish a fake by the keywords that the swindler used in large numbers, and many of them did not have anything to do with blocking advertising. Also, affected users should pay attention to the section with reviews, which contained a lot of complaints and direct indications that this extension is a fake.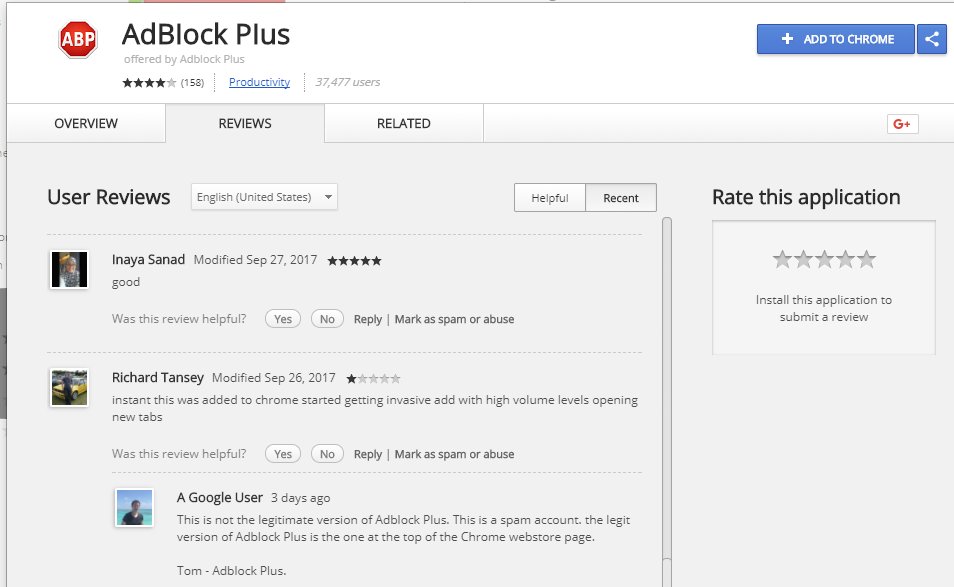 It is interesting that this is not the first time. In 2015, the Chrome Web Store already appeared fake AdBlock Plus, which in the same way showed the affected ads.